FAQ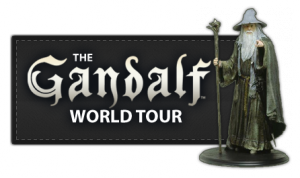 What is the Gandalf World Tour?
The Gandalf World Tour is a fan-generated, year-long project in celebration of The Hobbit films, which kicks of at Comic-Con 2011 and concludes at Comic-Con 2012. Fans will take pictures of Gandalf in recognizable locations or with recognizable people all over the world, handing the official Gandalf World Tour figures from one fan-photographer to the next, getting as many images/locations uploaded to the official Flickr site as possible before safely returning Gandalf to Comic-Con 2012. Progress of the GWT will be tracked and discussed right here on this website as well as on TheOneRing.net and the Official Hobbit Blog (http://www.thehobbitblog.com).
What is Fandalf?
Fandalf is our loving term for the Gandalf statue that is being hosted by 'Fans' during the event. So 'Gandalf' + 'Fans' = Fandalf!
Who is managing the Gandalf World Tour?
Gandalf World Tour is managed by TheOneRing.net and specifically staff member Entmaiden. Entmaiden is the point-person for the project and if you have any issues or questions, send an email directly to her at fandalf @ theonering.net. We are a completely fan-run event!
How do I request Gandalf?
If you are interested in hosting Gandalf, simply click on the 'Join the Tour' link on the right or click here.
Where in the World has Gandalf been?
We will be using Flickr and a special map on this site to track Gandalf's progress. Fans will geo-tag their photos on the map contained within Flickr so we can track both Gandalf #1 & Gandalf #2's progress. [Flickr] You can also click on the 'Where is Gandalf Now' link on the left.
How do I find out who is next on the Tour?
If you do not know who to give Gandalf to next, simply email us at fandalf @ theonering.net to find out! We'll be happy to help you arrange a 'Gandalf Handoff!'
What is a Gandalf Handoff?
Just as the name implies, a Gandalf Handoff is when one fan hands off Gandalf to another and documents it with a photo or video. Be sure to have permission from all the parties in your photo to share it with the world!
This is a really cool statue – where did it come from?!
The Gandalf Statue used for the Gandalf World Tour was produced by Sideshow/Weta collectibles in the early 2000's. To read more about the piece, jump over to the Weta website: Gandalf the Grey
Oh no! I have a problem – who do I ask for help?!
No worries! Simply email us at fandalf @ theonering.net and explain the issue you are having.