Gandalf goes to school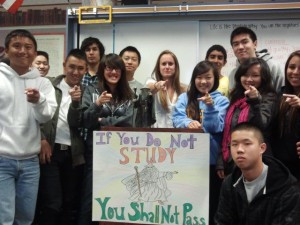 During Gandalf's recent swing through Southern California he stopped by a local high school to check on the progress of the students. By the looks of things, it appears Tolkien is well loved at this school. The teacher, Miss Burke, had this to say about the visit.
"This is my 11th grade English Honors class at Walnut High School in Walnut, CA. They were so pumped about having Gandalf in the class– some were not wanting him to leave!"
She also took Gandalf to the beach for a surfing lesson, but a camera malfunction prevented any pictoral proof of said lessons. Me thinks Gandalf was just too shy to be seen in a wetsuit and he conjured a spell to dissuade the camera from working properly.